Best Argentina VPN with Argentinian Server & IP Address – for Steam, Chrome, Netflix etc.
Vic Knott
2022.08.19
Articles & News
VPN App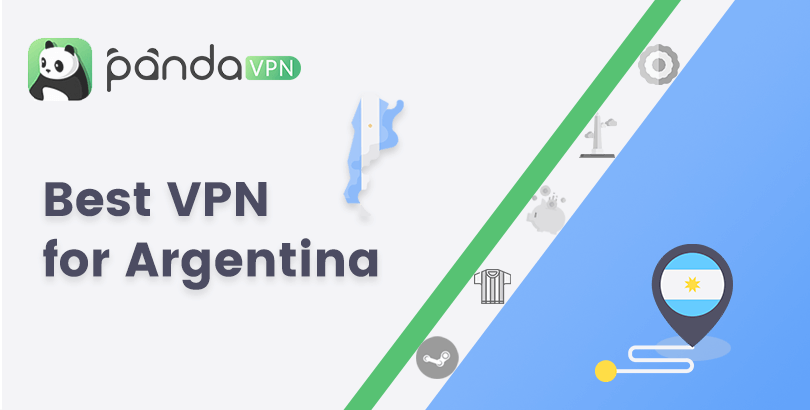 A good VPN for Argentina helps you get Argentinian IP address to buy cheap services outside Argentina, and also access geo-blocked content from other places in Argentina without issue.
Speaking of Argentina, what comes to one's head may be the love for soccer and Tango. But there are actually more than that. Argentina is one of the best places to go ahead online service purchase and shopping due to the low GDP & purchasing power and unstable economy here. For gamers, Argentina is undoubtedly the heaven for cheap games, so many people gain the benefit of VPN to change Steam country and web identity and become "local Argentinean" with an Argentina IP address for the regional price. Not only Steam, but also many other online services come with a truly cheap price tag. For example, the personal monthly fee of YouTube Premium is as low as about $1.0 ($11.99/month in the United States), the cost of Netflix basic plan in a month is just 429 ARS/$3.17 ($9.99/month in the USA) …
Then, despite Argentina is a country with good net freedom, with less obstacles and limit on internet content access, the geo-blocking thing of certain online resources makes many foreign travelers unable to enjoy geo-restricted content (such as US Netflix steaming library) at this country at will.
If you are one of the users with either requirement listed above, to work those problems out, you are suggested to have an Argentina VPN app.
How to Get an Argentina IP Address for Cheap Purchase?
To get a local IP address in Argentina for excellent bargains, you should look out for a VPN with Argentina server, just like PandaVPN.
PandaVPN has over 3000 VPN servers in total, which are located in 80 countries and 170+ locations, including that from Buenos Aires, Argentina. Now follow the steps below to hide and change your IP address to Argentina immediately.
Step 1. Download and install
Firstly, you should get an account of PandaVPN, download the VPN client and finish the setup by following the wizard.
PandaVPN now supports Windows, macOS, Android, iOS, Android TV, and Linux, allowing multiple connections at the same time, therefore, you can have it on any available device you'd like to gain IP address from other places or privacy protection.
Step 2. Launch VPN and sign in
When the installation is done, please open the app and sign in to it with the ready-made account and password in last step.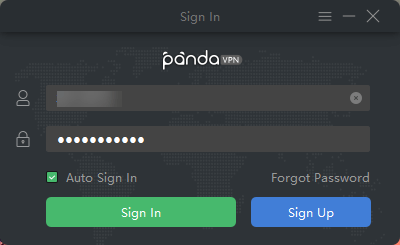 Step 3. Choose mode and server to connect
After a successful sign-in, you will see the main interface of PandaVPN, where you must pick a VPN mode (e.g Global VPN Mode, OpenVPN Mode, and WireGuard Mode) first, and then select a Argentina server from "America" server group or the search results to connect right away.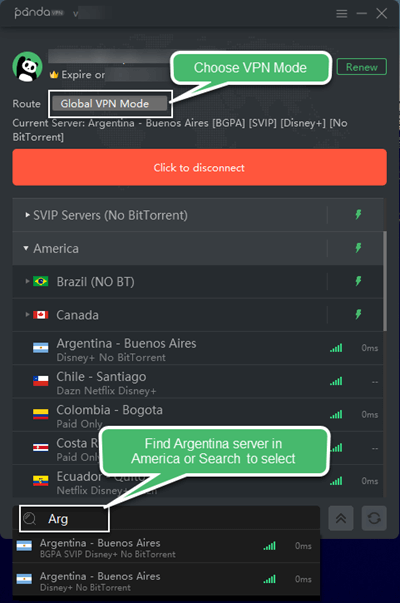 * Note:
The route modes may vary from platforms and you can choose either of the VPN modes mentioned above to have the VPN work properly.
PandaVPN is preloaded with split tunneling You can enable your browser or any specific app run with VPN on your mobile by enabling the function and tick the app from Settings -> Split Tunneling section.
For iOS and Android versions, DNS forwarding is also adjustable. You can choose either TCP or UDP mainly for the speed.
FAQs on VPN with Argentina Server
Q: What VPNs have Argentina servers?
Not all VPNs add Argentina tunnel into their server list.
Currently, some known VPNs like PandaVPN, ExpressVPN, NordVPN, TunnelBear, and ProtonVPN have servers for Argentina, while some names including Surfshark have not prepared Argentina server for users yet. If you don't want to pay for a customer VPN, you can still buy a Argentina server from VPS provider and set up a VPN with OpenVPN or WireGuard by yourself.
Q: Why I fail to get an IP address from Argentina while connecting to the server?
Some users claim in forum that although they have connected to Argentina server with a VPN yet only ending with a Brazil IP address. Consequently, they are left no opportunity to have cheap YouTube Premium price in Argentina.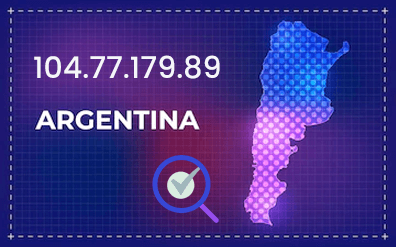 When encountering this problem, you can try to figure this out by changing VPN protocol and switch to other Argentina server to see if it works. If nothing helps, ask the support team for a solution or a refund if you still have the chance to do it. Through testing, when connecting to PandaVPN's Argentina server, any user can get a local IP address without issue.
Q: Is Argentina VPN available for Chrome?
It depends. Only when a VPN provides extension version for Chrome browser can you add its plug-in on Windows, macOS, or Chrome-based personal computer. PandaVPN don't have browser version. If you really need it, please turn to ExpressVPN or NordVPN.
Q: Can I use VPN Argentina free?
Yes, you can. Nearly all solid VPN providers have money-back guarantee to ensure a refund if the buyer is not satisfied with the VPN service. They also claim this as "risk-free trial" of their premium product. In addition, some VPNs do have deliver free-trial in certain platforms, like iOS and Android, however, 99% of them will require a sign-up with email or even pay for a subscription beforehand (they will give back your payment at the end of the free trial).
PandaVPN offers a 3-day free trial for all new Android users. No email needed, no account creation, no credit/bank card binding or further payment, if your Android phone or tablet has not installed PandaVPN before, you can enjoy a 100% really free VPN use by simply downloading and installing it on your machine. There will be an automatic sign-in for further operation.
How to Beat Geo Blocks in Argentina for Free Net Access (Steaming Included)
Geo-blocking is now applied by many platforms, especially the streaming services like Netflix, Amazon Prime Video, HBO, Hulu, Disney+, YouTube, and Pandora. They conduct this geographic restriction rules mainly for the sake of copyright reason since their distribution rights for films, TV shows, music, live broadcast channels, and so forth are different from countries. That's also why Netflix has varying movie and TV titles from one place to another and many customers seek methods to change Netflix region to access media libraries from other countries (e.g. US/UK/Canada Netflix) for more favorable titles.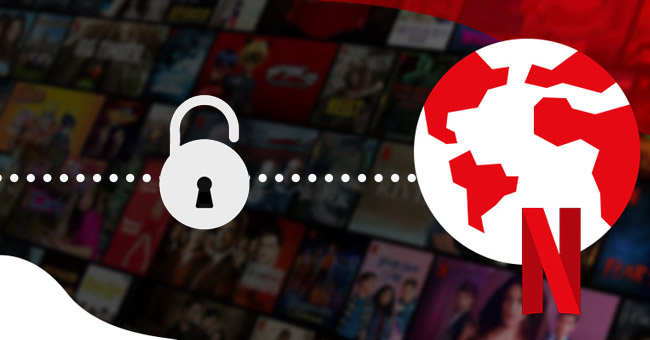 Beyond that, for marketing or political reasons, the online content provider may have no plan to grow its business in many underdeveloped, non-EU, or heavily censored countries. We can totally understand that whereas it makes the people living in or going on a holiday, a business or college trip in these regions hard to watch "the video/song that's not available in your country", unless they circumvent the barrier with the help of proxy services to gain new IP address.
Here setting bypassing geo-blocking with PandaVPN as demonstration, hope all users in demand will master this approach to access whatever sites and services in Argentina without hassle. By running such a stellar VPN app in the background, you can also enjoy an enhanced level of online privacy and security thanks to its tight internal encryption, being kept off the monitoring and tracking from government and ISP.
Step 1. Install the VPN client on smart device
Download and have PandaVPN installed on your mobile, computer or smart Android TV.
Step 2. Get an account and sign in to VPN
Register an account with a given digital number and the password set by you. Please select a proper plan according to your actual need and finish the order. After that, launch the VPN client and sign it in with the account information.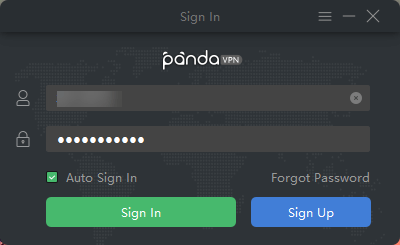 Step 3. Pick and connect to a proper server
On the main interface of PandaVPN, you will see a big button, as well as another route mode and a server list. In many cases, VPN modes like Global VPN mode and WireGuard/OpenVPN mode are more suggested for better security sheltering.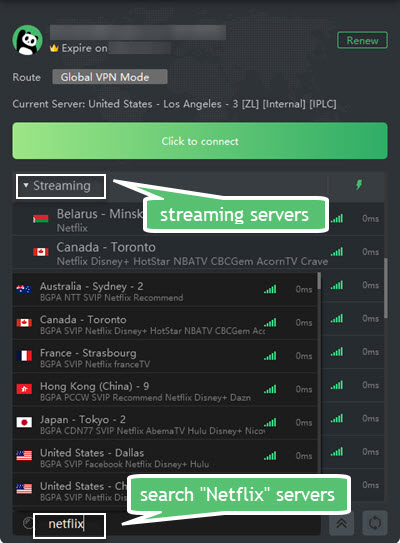 As to the server stuff, if you have no special server requirement, simply tap the button to route all traffic via VPN smartly. But if you have an expected server destination like the United States, Canada, Australia, United Kingdon, Germany or so, do manually browser and pick a right one from the server names. PandaVPN has more than 3000 servers across 80 nations around the world, all of which are grouped well according to continents, country or purposes like Streaming, Game, and BitTorrent. Alternatively, you can search through the search bar for target servers, for instance search "United States", "Los Angeles", "Netflix", "Facebook", "BitTorrent". Double click the server on computer or tick it directly on mobile phone will have the connection happen at once.
FAQs on Remove Geo-blocking in Argentina
Q: Is it legal to use VPN to get around geo-blocking in Argentina?
This kind of legality issue exist everywhere on the earth, not only in Argentina. And the truth is it depends on where you are located in and what you use the VPN to unblock. In VPN-banned areas like North Korea and Turkmenistan, the action of using a VPN is illegal, not to mention what one will do with it. Even in countries with strict copyright law or the (streaming) platform takes measures to ban unblocker or proxy for copyrighted content access, no typical case regarding copyright infringement was revealed before the publication of this post. (Check is VPN legal or illegal to use)
Q: Do all Argentina VPNs feature unblocking geo-restricted content?
Generally speaking, there's no problem for them to unblock websites, but the ability to unblock steaming services, gameplays, apps, and speed up torrent download differs from products. On one hand, a VPN may be good at working with certain big services but not serve the niche ones well. On the other hand, due to the increasing banning operations from services on proxy in recent years, the IP addresses from many small VPNs are added to the blacklist. As a result, you will be happy only with high-quality VPNs like PandaVPN.
Q: Free vs paid Argentina VPN, what's the difference?
We can understand that people love freebies. But considering those free VPNs tend to be data miners to collect your browsing history and personal data or be free ads suppliers to show you endless advertising pieces, plus the limited servers and connection speed, you are not recommended to use it except that you don't secure your privacy and only use it for web browsing.
Premium VPNs like PandaVPN not only have massive fast servers and first-in-class encryption, but also grant no-log policy and all-day tech support. Don't expect to get valuable things for nothing because you will lose something valuable during this process.
Exercise your rights to privacy in digital age!
Get PandaVPN
7-day money-back guarantee